Our tavern combines warmth and tradition to create a cozy atmosphere. Modern decorative accents contrast with the historic walls, making Walserstube a special place to enjoy yourself.
The four dining rooms offer a warm atmosphere for a romantic evening for two, dining with the family, or even a party with your loved ones.
This room used to be the anteroom of the kitchen. Now it is an area where something is always going on. With space for 6 people, the Loba is a small room, but it is one of our most popular. Guests with a table in this room can take a look in the kitchen and watch the chef at work. The rustic charm of our Loba dining room is enjoyed by many and even stirs up feelings of nostalgia.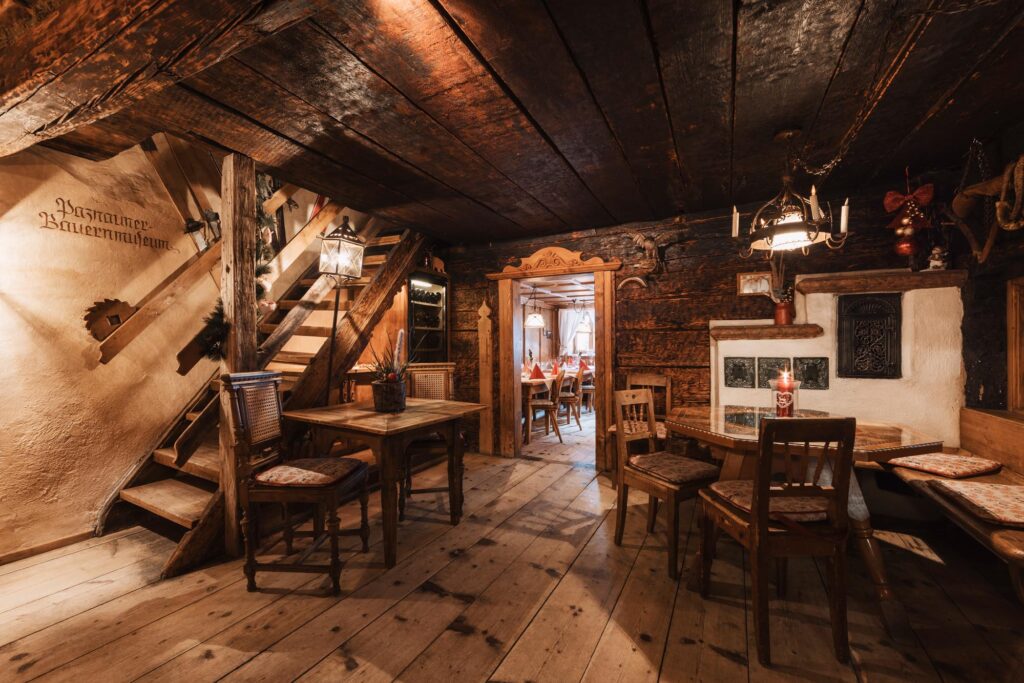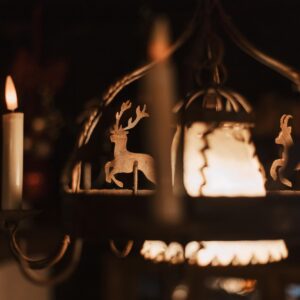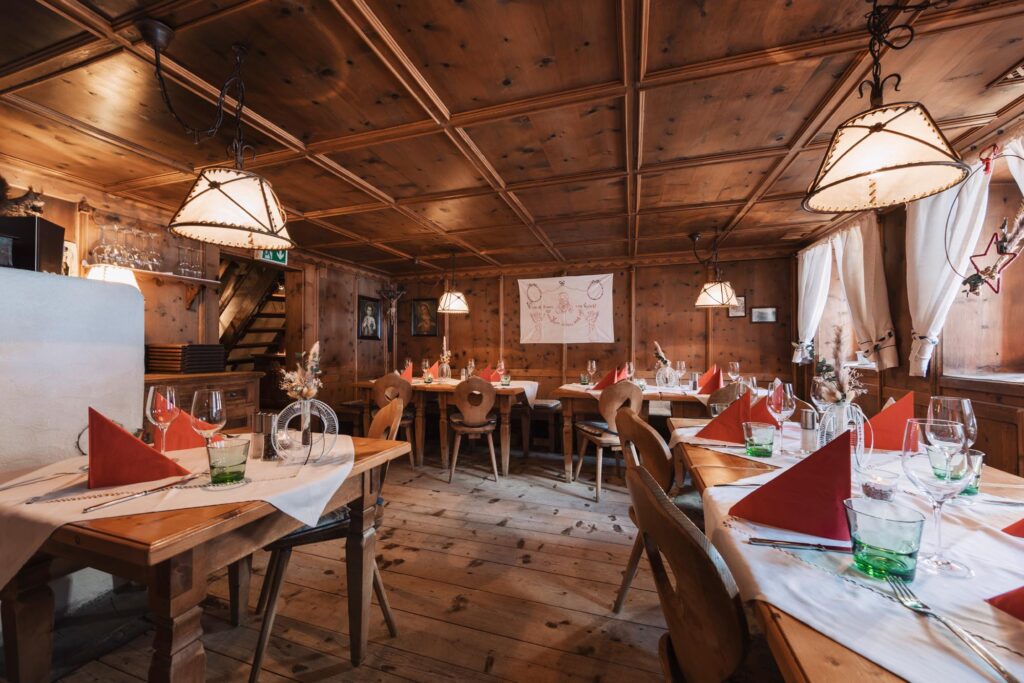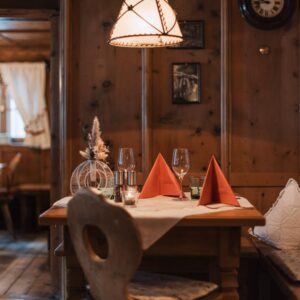 Both the ceiling and the walls of our Paznaun dining room feature local pine panels that still give off a wonderful scent after all these years. In winter, the small, quaint wooden windows offer a fascinating view of the unique landscape in Tyrol and create almost a romantic atmosphere. This dining room has space for up to 20 people and is perfect for small parties or larger family dinners.
The Fireplace Dining Room
Our fireplace dining room also features original pine panels, but the highlight of this room is definitely the old tiled stove with its historic design. It offers warmth on cold days and provides a cozy atmosphere for up to 10 people.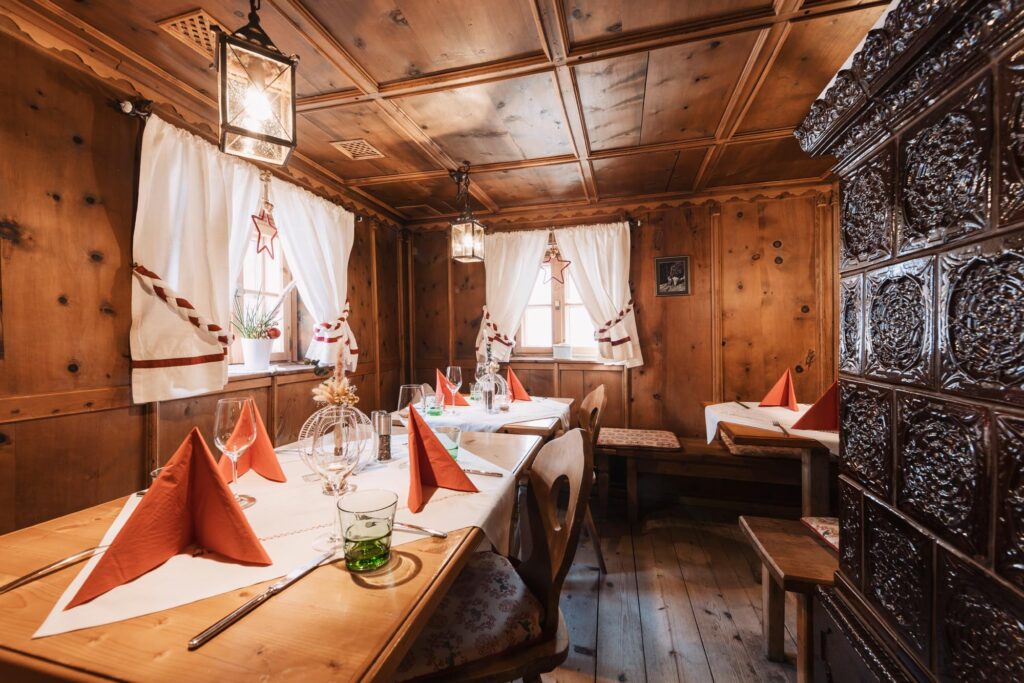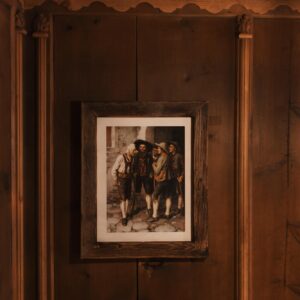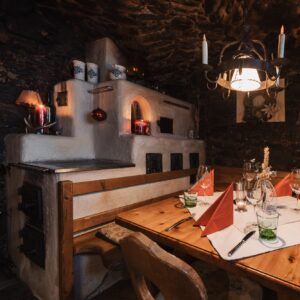 The black kitchen is our most exciting dining room. The ceilings and arches have turned black from the smoke and soot from the fireplace that was once in the room. Later, a wooden stove and an oven were used for cooking. They can still be seen today. The cozy little room has space for up to 9 people.
Our wine cellar is another special feature of our tavern that is a highlight for many wine lovers. The brick walls, the creaking floors and the rustic wooden ceilings are authentic relics from the past and create a pleasant, inviting atmosphere with space for up to 6 people.
The stars of our wine cellar are, of course, our carefully selected wines.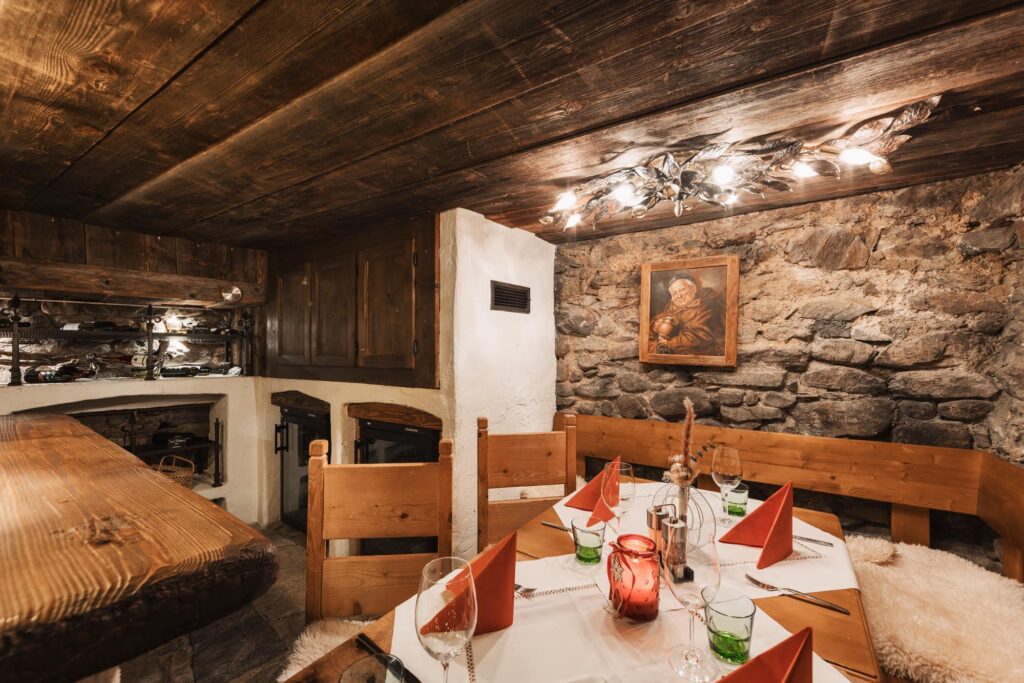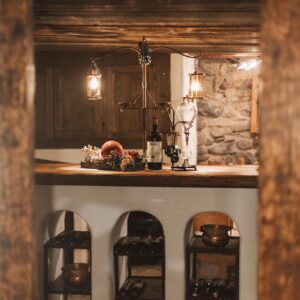 "The wine you drink should never be bad,rarely be average,sometimes be goodand normally only be excellent."
We have created our wine list based on this philosophy and try to offer you some delicious options from a wide variety of flavors and countries. Many of our wines come from renowned winemakers from Austria, but our list also features wines from Italy, France, and the "New World".